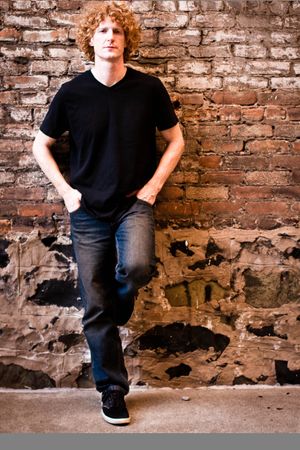 Rob Meany is a singer-songwriter, keyboardist best known as the leader of jazz-rock quartet, Terramara.
Born and raised in Duluth, Minnesota, Rob was drawn to a wide range of music at an early age while studying classical piano and listening to Miles Davis, Stevie Wonder and The Beatles.  He continued his studies at college, playing french horn, singing in choir, and playing in jazz band.  
It wasn't until a few years later that Rob would find his muse as a songwriter and singer.  After short stints as a sideman in various groups, he formed Terramara as a vehicle for his jazz-funk, piano-driven songs.  Over the past fifteen years, Terramara has released three full-length albums, garnering a loyal following among smart-pop and jazz-rock lovers around the world.  
The band's first album, self-titled Terramara, (2000, produced by Ken Chastain of Greazy Meal), introduced the band's unique sound to the local scene:  "Think Steely Dan with an edge. Great pop tunes with a flavor of jazz and rock…"— TwinCities.com.
Several years and line-up changes later, the band reformed and released a follow up, entitled Four Blocks To Hennepin (2005, also produced by Ken Chastain), a more fully-realized and finely-crafted production that put the band on the map as a rare purveyor of modern pop/rock/jazz fusion:  "If you thought the parting of Spymob meant there weren't any good Steely Dan-loving bands left in town, then you obviously haven't heard the new Terramara CD. Titled, Four Blocks to Hennepin, the sophomore album is a piano- and horn-driven effort full of tight, poppy harmonies and instrumental jams that could light an incense stick. Terramara's singer-keyboardist Rob Meany has a smooth yet powerful, Sting-like voice…and his songs such as "Running Down the Avenue" and the title track feature guy-lost-in-the-city themes."—Chris Reimenschneider, Star Tribune.
Four Blocks To Hennepin also yielded Rob some accolades as a songwriter, with the track "Goodbye" winning a second place finish in the international Billboard World Song Contest.  Another track, "Outrunning Headlights" won Grand Prize in the Positive Pop Song Contest out of Nashville.  Other awards include Grand Prize in the Strictly Original New Music Competition on Minnesota's WB TV, and top ten in the Unisong and the Independent Music Awards (IMA).

Rob's songs have also been featured in many national and international TV programs such as Supernatural (CW), Making The Movie: The Watchmen (UK), Animal Planet, Biography (A & E), Dress My Nest (Style Network), Emeril Green, Man Vs. Food (Travel Channel), among others. 
The release of the band's third album, Dust & Fiction (2008, produced by Jon Herchert), continued the drive toward progressive-pop perfection, leaning more heavily on guitar-driven tunes and quirky arrangements.  Critics agreed:   "…Dust & Fiction, shifts away from the Steely Dan style and toward XTC…Simultaneously intelligent and incredibly catchy, they might just single-handedly save pop music." — Larry Kolota, KenesisCD.com.  
"Beautifully arranged jazz-pop that offers an urbane, sardonic wisdom that's beyond the reach of most mainstream acts today." — Jason Warburg, The Daily Vault
"Funky pop-rock that has a great notion of vocal harmonies, Terramara is part jazz and part Maroon 5 — J Sin. smother.net
Over the last few years, Rob took a hiatus from Terramara to produce his first solo album, Ferris Wheels Unbound (2016), which departs from the rock quartet-oriented production of past albums, instead presenting a collection of more intimate performances, storytelling, and stark arrangements, enhanced by string quartet and jazz trio.  Producer Andy Thompson (Jeremy Messersmith, Natalie Lovejoy, Kevin Steinman) provides a Beatlesque art-pop sheen to the songs, while retaining their homegrown, folksy style.  "This shimmering collection might be recommended to fans of Marshall Crenshaw, XTC, and chamber pop.—Jay Gabler, KCMP 89.3 The Current.
In Minnesota, Terramara has been nominated for Best Pop Group, and Rob for Best Keyboard Player. Rob was also featured in an extensive interview on Inside Musicast.com, a well-known music blog.  
 
MEANTONE MUSIC
Rob also writes music for film, television, radio and internet media, under the name
Meantone Music
, for clients such as National Geographic, The Smithsonian, 3M, Best Buy, Shure Corporation, United Healthcare, Cox Communications, Wellpoint and many others.  
PIANO MAN FOR HIRE
As a solo pianist/singer, Rob also performs popular music, jazz standards, and even ragtime and classical.   He has a large and diverse
songlist
 of tunes for any occasion.   To learn more and see a video go to his
Songlist
 page.
PIANO TEACHER
Rob is also active as a piano / keyboard teacher in Bloomington, Minnesota.  Go to his
Piano Studio
page to learn more.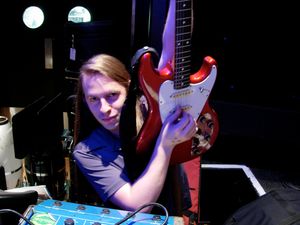 Karl has been playing guitar for some eighteen years; he attended Minnesota State University at Moorhead, majoring in jazz performance, and has been involved in a varied gamut of music endeavors, including rock, jazz, reggae, R&B, studio projects, classical and experimental, et al.
Karl is currently active with several organizations besides Terramara: Steeling Dan, a tribute band performing the music of Steely Dan; Mobius, an electric jazz trio; and Tardis, a duo exploring electronica and improvisation.  Karl has been with Terramara since 2002.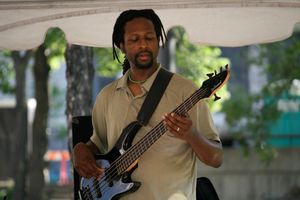 James began his music endeavors by playing trumpet at age nine and continued through high school. He made the switch over to electric bass at age seventeen. James has studied with well-known professional bassists in the Twin CIties area, and has been involved with several music projects over the years. James has kept himself fairly busy within the local music scene by working in a variety of music situations that cover the pop, rock, R&B, blues and jazz genres.  
James has been a member of Terramara since 2006.  He also plays with the Hip-Hop/R&B/Rock group the Spectaculars, and the Fleetwood Mac Attack. He may be seen with other acts on occasion.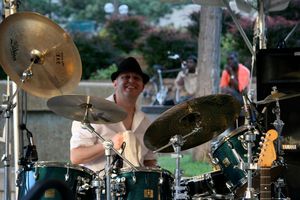 Dave began studying drums and percussion as a lad of nine years. As a youth he studied with local player Tom Hagstrom, Robert Adney (Minnesota Orchestra) and attended master classes with Gordy Knutsen (Steve Miller Band) and Marv Dahlgren (Minnesota Orchestra).
At St. Olaf College, Dave studied theory/composition with Paul Hindemith student Arthur Campbell. He has been playing original rock, jazz, orchestral music and the occasional wedding polka in the Twin Cities scene since graduating from college in 1992. Groups he has played with include: Brother Son Sister Moon co-founder Barb Cohen and Little Lizard, jazz pianist Don Stille, Christian folk composer John Micheal Talbot, and a long list of local acts, including his current bands, Terramara and Steeling Dan, a tribute band performing the music of Steely Dan.
Dave is an active teacher and studio rat. He dreams not of joining the human race, but having a recording studio in the country, up on the hill where people never stare, drinking Scotch whiskey all night long, and reducing his chiropractic bills by hiring a roadie.